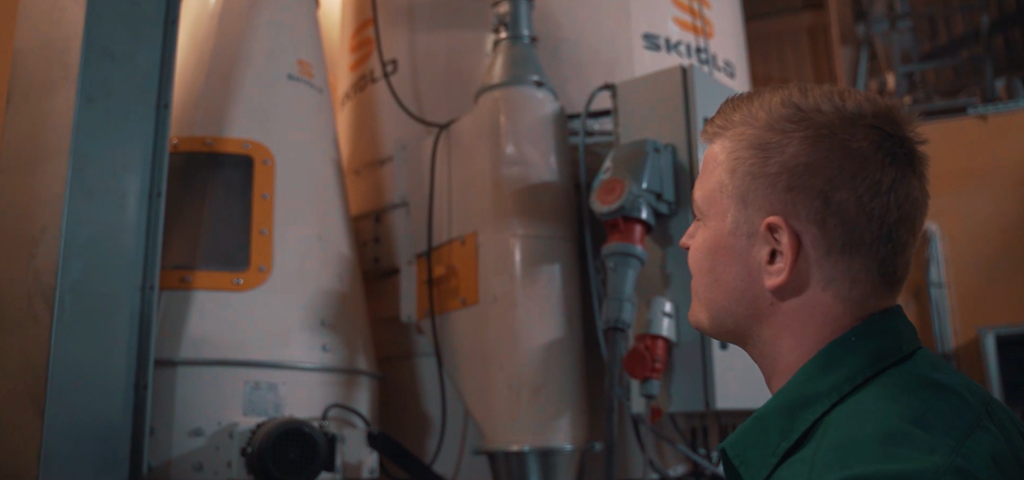 Cleaning and sorting that maximizes your productivity
Focus on the management of your raw materials can be an important step when it comes to obtaining the full benefit of your production
During the processing of grains the surface of the grain can be contaminated by fungi that produce toxins. Toxins lower productivity in general and can, among other things, lead to disease in the animals, reduced growth, and other severe problems.
Fortunately, SKIOLD has achieved documented results in the cleaning and sorting process with SKIOLD SIGMA. A cleaning and sorting machine that effectively removes mycotoxins on the surface of the kernels. The results are outstanding as up to 90% of all mycotoxins on the surface of the grain is removed.
In SKIOLD SIGMA, rotating screens gently scrub and polish each individual grain, helping to reduce the content of bacteria and fungi. This approach contributes to a result where you get a much higher hygiene standard in cereals, which affects the nutritional value of the feed for the animals.
SKIOLD SIGMA works with a centrifugal function, which is ideal for cleaning moist and oily seeds, such as grain, corn or rapeseed. Because seeds and grains are centrifugally cleaned by being forced against the rotating screens, each grain is polished and cleaned across its entire surface area. This way of cleaning results in extraordinary hygienic grain and the effect has been validated by the independent German research institute IFF.
With SKIOLD SIGMA you get a solution that gives you excellent cleaning result – which also pays off in the performance on your animal farm.  
If you are considering if it pays back to preclean grain do not hesitate. You will quickly reap the benefits of high quality feed and experience animal health improvements. Read more